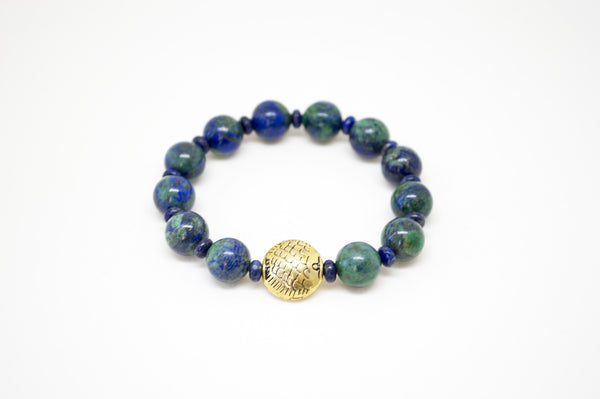 Azurite Malachite Infinity Bracelet with Lapis Roundels and Bronze Fish - 10mm
Description
Representing a beautiful sea of blue and green, the Azurite Malachite Infinity Bracelet is full of life and positive energy. The Azurite stone heightens creativity and intuition, also known for helping with memory. This unique bracelet adds a finishing touch with its bronze North African Turbot fish, known for feeding the people of the Mediterranean for thousands of years.

How to Wear
The beautiful array of blues and greens make this bracelet pop with color and energy, making it a perfect piece to wear with a tailored suit, bright blue dress or weekend tee.

Details
Approximately 6.7 inches in length.
Made proudly in NYC, Rik Parker's handcrafted designs are as unique as the energy and people of our beautiful city.
Pictures of items on rikparker.com are representative samples of the item for sale. Each item on rikparker.com is created from an individual selection of stones to build a unique piece and may not be the same as the item pictures unless specifically noted in the description.